Roland Texart™ RT-640 Dye-Sublimation Inkjet Printer
The market for dye-sublimation printing is growing rapidly. Sportswear, décor, Point Of Sale (POS) displays, trade show exhibits and a wide range of promotional products are just a sample of the many opportunities available.
The Roland Texart RT-640 sublimation printer was designed to provide superb quality, productivity and value with ease of operation that will please both experienced operators and beginners. It boasts new Texart SBL3 ink and advanced, state-of-the-art print control technology for quality imaging and color consistency at a top speed of 351 square feet per hour.
To better satisfy your shop's particular needs, we've included the premier RIP for sublimation printing – ErgoSoft Roland Edition Textile RIP – and a choice of either four-color (CMYK) or eight-color (CMYKLcLmOrVi) configurations. A new feed adjuster and the included take-up system provide stability during high-speed printing. For trouble-free continuous printing and increased production capability, the RT-640 is equipped with the Roland Ink Switching System. In four-color configuration, this innovative system allows the printer to automatically switch to a new ink pouch when the original runs out, providing up to 2000ml of ink per color (CMYK only) for unattended printing.
Take a close look at the stunning output, then add up all the innovative features and we think you'll agree: the RT-640 sublimation printer is simply brilliant.
Summary
• 64" integrated dye-sublimation transfer printer
• New Texart dye-sublimation ink for dense, vivid color
• ErgoSoft Roland Edition Textile RIP included
• Choose from two ink configurations
o Dual CMYK
o CMYKLcLmOrVi
• Maximum speed of 351 sqft/hr
• Gold-plated 8-channel print head for improved static control and variable droplet printing
• Advanced feed adjuster for highly stable printing
• Integrated bulk ink system and ink switching system* for unattended printing
• Roland Printer Assist iPad app allows remote management of common printer functions
• Included media take-up system handles 110 lb. media rolls for greater capacity
• Ethernet connectivity for high-speed data transfer
• Two-Year, Trouble-Free Warranty

* Available only in four-color mode
It all starts with the ink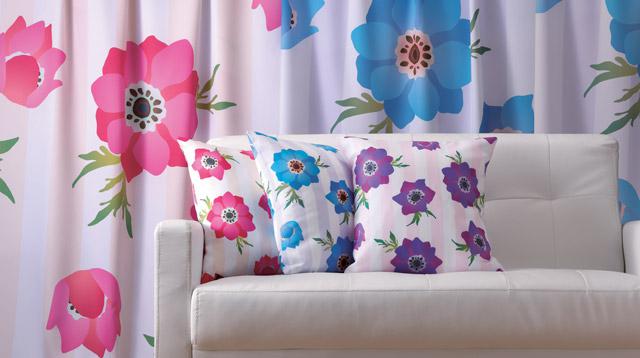 Previously, colors printed on sublimated fabrics could look distorted with dull blacks, missing grays and fuzzy details. Roland's new Texart dye-sublimation ink solves these issues, displaying bold, vibrant color, deep, rich blacks, subtle gradations and remarkably fine details.
The RT-640 can be configured as a four-color or eight-color device. In four-color (CMYK ) mode, Texart dye-sublimation ink produces bright colors with velvety blacks, improved gray scale and high quality, detailed output. In eight-color (CMYKLcLmOrVi) mode, the addition of Orange and Violet ink produces an increased color gamut with exceptional reds and oranges and deep blues and purples while Light Cyan and Light Magenta provide subtle gradations and beautiful skin tones.
Every Detail Has Been Optimized for Exceptional Output, Performance and Value
An advanced, eight-channel print head contains 180 nozzles per channel capable of producing seven different droplet sizes for smoother gradations and denser color. Texart ink is approximately 15% less expensive per liter than conventional inks, yet provides outstanding color reproduction. Lower running costs are also achieved due to the ink waveform and maintenance sequence control technology engineered for Texart ink and the RT-640 dye-sublimation printer.
Precision Media Tracking
The RT-640 includes a newly designed media feed adjuster at the front and back of the printer that provides even tensioning and prevents skewing when running transfer paper media at high speeds. Enhanced vacuum power supplied by a powerful fan keeps paper flat for printing. The result is tack sharp details and a precisely wound roll at the take-up reel.
Integrated Bulk Ink System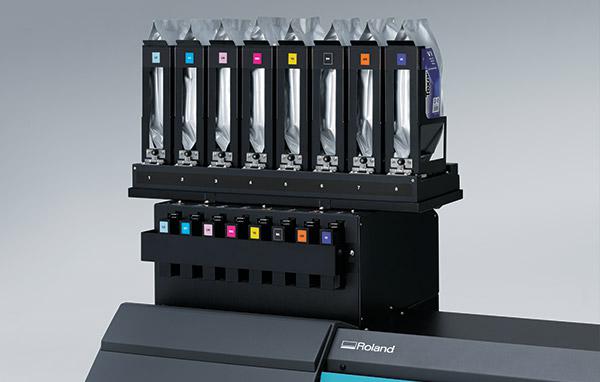 The Roland Ink System uses airtight sealed pouches of one liter each. When in four-color mode, the system provides two liters per color. The proprietary Roland Ink Switching System* automatically switches to the backup ink pouch when the primary pouch runs out. Further expediting production, you can replace an empty pouch without stopping the printer.
* Available only in four-color mode
ErgoSoft Roland Edition RIP Created Especially for Digital Textile Production
ErgoSoft Roland Edition was developed especially for Roland by ErgoSoft, the premier RIP provider in the textile market. Support for both four-color and eight-color printing is provided and it includes numerous features especially for digital textile production that combine excellent high-speed RIP throughput and image quality.
Features include:
• Custom color replacement
• Superior dithering methodology
• Step and repeat
• Ink limit controls
• Scale and shrinkage correction
• Production control utilities
See your Roland Authorized Dealer
for additional ErgoSoft features and upgrades.
Media Take-Up System Included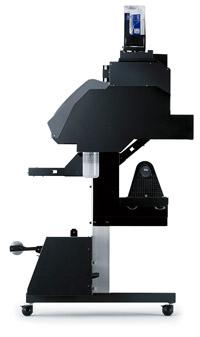 The newly developed feed adjuster combined with the RT-640's included take-up system facilitates precision unattended printing. The TU3 take-up system includes a convenient front-mounted take-up roller and an advanced tension controlled take-up unit for optimum media feeding and tracking.
Take-up system highlights:
• Supports roll media up to 110 lbs. (50kg)
• Dancer roller applies light tension to the media for stable take up
• Dual shaft fixes the sliders firmly
• Adjustable take up position for flexible paper core usage
• Support brackets assist with loading and unloading heavy media rolls
• The roller releases the media automatically when the upper arrow key of the operation panel is pressed to rewind the media
• Rotating shaft face decreases resistance for dramatic improvement in feeding accuracy
• Adjustable flanges allow for precise centering of smaller rolls
Texart Sublimation Transfer Paper – A Brilliantly Simple Paper Choice for the RT-640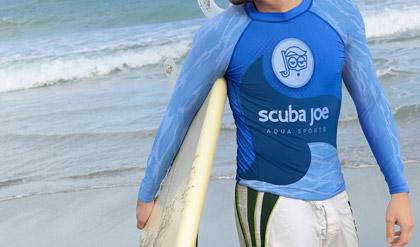 Roland now offers a premium transfer paper to meet the high-quality color and print demands of the RT-640. Specifically created for dye sublimation and for use in conjunction with the RT-640, Texart Transfer Paper is uniformly coated 95 gsm with excellent ink absorption, quick drying time and extremely high ink release during the sublimation process. As a result, you'll save money due to decreased ink usage, and your customers will enjoy signage, apparel and more with high-resolution images, vibrant colors, and super-sharp text. The combination of the RT-640 and Texart Transfer Paper provides a brilliantly simple solution with beautifully crisp and colorful results.
Roland Printer Assist
With Roland Printer Assist, you can manage your RT-640 dye-sublimation printer remotely when you're in the office using an iPad tablet. Free and available for download from the iTunes App Store, the Roland Printer Assist app enables users to manage production, test printing, and access cleaning functions from virtually any location within your office network.
You can instantly observe key operating parameters such as the amount of ink remaining and waste bottle status. Roland Printer Assist notifies you when consumable parts replacement should be performed to ensure printer reliability. The intuitive interface features clear control menus that are easy to navigate to keep things running smoothly.
You can manage commonly used menu operations such as power on/off, test print and cleaning for maximum efficiency. Roland Printer Assist allows you to manage multiple printers from a single iPad.
Interactive documentation for processes such as manual cleanings and part replacement feature step by step diagrams that walk you through the procedure, making maintenance tasks a breeze and letting your operators make the most of their time.
Two-Year Trouble-Free Warranty
The Texart RT-640 combines unbeatable performance with legendary Roland reliability, backed by a Two-Year Trouble-Free Warranty when equipped exclusively with Roland Texart inks and the warranty is registered within 60 days of delivery.
Roland Reliability, Service and Support
Roland printers have earned a worldwide reputation for reliable performance and outstanding results. Roland's international ISO certifications are your assurance of quality products and service. We build high-performance products and back them with a wide variety of supplies and accessories. No other manufacturer can match the high level of service and support we provide, which includes free webinars, informative "how-to" articles and videos, free software updates and expert technical assistance.
Quality Assurance
Roland's international ISO certifications are your assurance of quality products and service. We build reliable, high-performance products and back them up with first-rate customer service and a wide variety of supplies and accessories.
In the ever-advancing world of dye-sublimation, ease of use and value are as important as performance and quality when choosing the right inkjet printer for producing transfer graphics. That's precisely where the Texart™ RT-640 stands out. Featuring Texart SBL3 sublimation ink, state-of-the-art print control technology, premium ErgoSoft Roland Edition Textile RIP software, a choice of either four-color or eight-color printing – and much more – the RT-640 allows you to deliver stunning results on a wide range of materials. It's an ideal choice for digital textile printing and other dye-sublimation applications.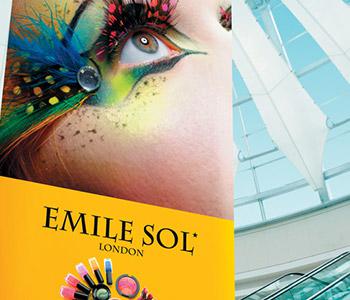 Soft signs of the times
With Roland Printer Assist, you can manage your RT-640 dye-sublimation printer remotely when you're in the office using an iPad tablet. The RT-640 leverages either four-color or eight-color configurations to deliver stunning details. With the addition of Orange and Violet sublimation ink, a kaleidoscope of eye-catching colors can be achieved. From banners to tradeshow graphics, flags, and more, the options for soft signage are virtually endless.
Hard goods are easier than ever
No matter what type of rigid material you plan on sublimating to—from snowboards and skateboards to custom decorated tiles and promotional products—the RT-640 has you covered. Vibrant colors? Rich blacks? Subtle gradations? Super fine details? No problem for the RT-640, thanks to its highly-advanced, eight channel print head, ErgoSoft Roland Edition RIP, and specially formulated SBL3 sublimation ink.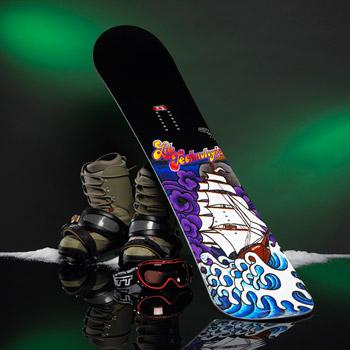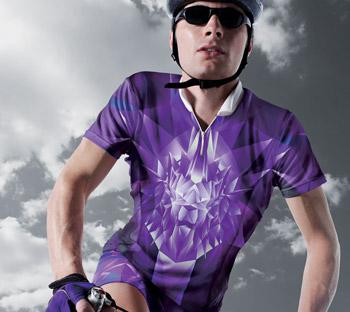 Create wearable art
From team jerseys, custom hats, handbags, and more, you can quickly roll up your sleeves and expand your client offering with high-quality apparel transfers produced on the RT-640 with ease. Take your digital textile printing to a whole new level.
Rev up the reliability
Off-the-charts imaging. Unmatched reliability. Exceptional production capabilities. World-class Roland service and support. The RT-640 puts you in the driver's seat for creating premium sublimated vehicle graphics, such as upholstered interiors, personalized accessories and custom restyling gear.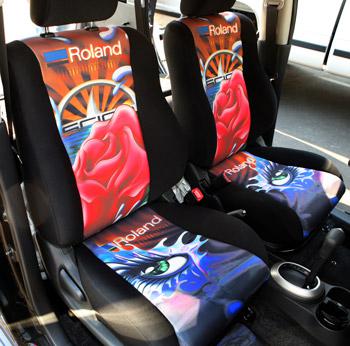 Printing technology

Piezoelectric inkjet


Media

Width

10.2 to 64 in. (259 to 1,625 mm)

Thickness

Maximum 39 mil (1.0 mm)

Roll outer diameter

Maximum 8.3 in. (210 mm)

Roll weight

Maximum 88 lbs. (40 kg)

Core diameter 1

3 in. (76.2 mm) or 2 in. (50.8 mm)

Printing width 2

Maximum 63.6 in. (1,615 mm)

Ink pouches

Types

Exclusive sublimation ink pouch


Colors

Four colors (cyan, magenta, yellow, and black) Eight colors (cyan, magenta, yellow, black, light cyan, light magenta, orange, and violet)

Printing resolution (dots per inch)

Maximum 1,440 dpi

Distance accuracy 3

Error of less than ±0.3% of distance traveled, or ±0.3 mm, whichever is greater

Connectivity

Ethernet (10BASE-T/100BASE-TX, automatic switching)

Power-saving function

Automatic sleep feature

Power requirements

AC 100 to 240 V ±10%, 1.5 A, 50/60 Hz

Power consumption

During operation

Approx. 140 W

Sleep mode

Approx. 31 W

Acoustic noise level

During operation

62 dB (A) or less

During standby

49 dB (A) or less

Dimensions (with stand)

104.4 (W) x 31.3 (D) x 63 (H) in. (2,650 mm (W) x 795 mm (D) x 1,600 mm (H))

Weight (with stand)

353 lbs (160 kg)


Environment

Power on

Temperature: 64.4 to 77° F (18 to 25° C), humidity: 35 to 65% RH (non-condensing)

Power off

Temperature: 59 to 86° F (15 to 30° C), humidity: 20 to 80% RH (non-condensing)

Accessories

Exclusive stands, power cord, media clamps, media holder, replace- ment blades for separating knife, User's Manual, etc.
ErgoSoft Roland Edition System Requirements
| | |
| --- | --- |
| Operating system | Windows® 8/8.1 (32/64-bit); Windows® 7 Ultimate/Professional (32/64-bit); Windows Vista® Ultimate/Business (32/64-bit) |
| CPU | Quadcore 2.5 GHz or faster recommended |
| RAM | 4 GB or more recommended |
| Video card and monitor | A resolution of 1,280 × 1,024 or more recommended |
| Free hard-disk space | 40 GB or more recommended |
| Optical drive | DVD-ROM drive |
1.

The media holder of this machine is exclusive use for the media of paper tube (core) inner diameter 3 inches. To use 2 inches media, the optional media flanges are required.

2.

The length of printing is subject to the limitations of the program.

3.

• Media type: Media specified by Roland DG Corp.
• Temperature: 77°F (25°C), humidity: 50%
• Roll media must be loaded correctly.
• Excluding expansion/contraction of the media
• All corrections or adjustment function of this machine have been made properly.
• Print travel: 1 m