Epson SureColor T3270 Textile Sublimation Printer





Precision. Performance. Brilliance.
Never before has there been a large format color imaging system so capable of producing precise technical drawings, graphic posters, and retail signage at high speeds — that can also grow with your needs as your business thrives.
Introducing the New Epson SureColor® T-Series.
Developed using the latest advancements in performance imaging, like our exotic EPSON PrecisionCore™ TFP® print head, EPSON REALOID image processing hardware, and our breakthrough pigment ink technology – EPSON UltraChrome® XD – the all-new SureColor T-Series could be the way you'll print your next big idea.

* Price is MSRP before any applicable rebates. Reseller prices may vary. All prices are in U.S. Dollars.

Designed to meet your business needs now – and in the future – the new SureColor T-Series printers deliver presentation quality Print, Copy, Scan and Share features at best-in-class speeds saving you time and money.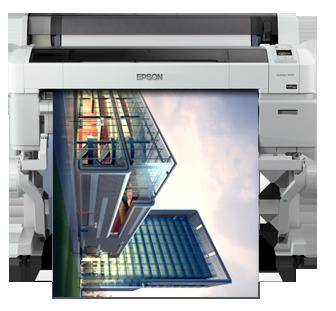 • Fastest Print Speeds in its class at only 25 seconds for a presentation quality D-size plot, print speeds up to 780 ft2 per hour, and color scan speeds up to 6-inches per second1
• Modular design options, including Multifunction copy and scan, Adobe® PostScript® 3™, and a Internal Printer server to be added in the future as your needs grow
• Revolutionary EPSON PrecisionCore™ TFP® print head
• Professional media handling from plain paper up to 1.5 mm thick posterboard
• Horizontal Catch Basket for neatly stacked printed output of different sizes and paper types
• High-Capacity ink system for low printing costs
• Free one-year of coverage under the Epson Preferred Protection Plan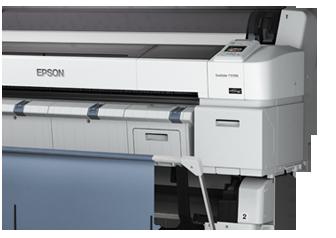 Dual-roll models add the following features:

• Automatic roll system simplifies loading new rolls of media
• High-Capacity Catch Basket keeps output neatly organized

• Maximum resolution of 2880 x 1440 dpi for incredibly sharp text and fine detail
• Precise ink drop control with variable-sized droplets as small as 3.5 picoliters for outstanding clarity and sharpness
• Utilizes Micro-Electro-Mechanical Systems (MEMS) Technology for unparalleled Dot Placement accuracy and high speeds
• Developed for use with Epson UltraChrome XD inks for high reliability with very little downtime for maintenance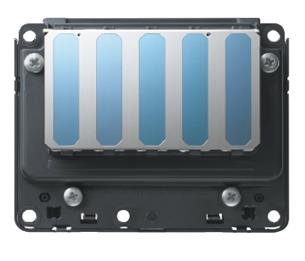 • Fastest-in-class Copy and Scan Speeds2:
- Color D-size copy in less than 40 seconds
- Color Scan speeds up to 6-inches per second
• Epson REALOID Image processing hardware optimizes image quality for crisp line documents and photographic posters
• Scan and Share images across a network, by email, and even to a remote SureColor T-Series multifunction system
• Intuitive controls for easy copies, enlargements, and scanned images

• High performance Adobe PostScript 3 Hardware engine supports Hot-Folder batch printing and easily integrates into the most complex workflows, including support for secure PDF printing
• Boost workgroup productivity with the internal 320 GB print server which can be managed remotely, and allows for print jobs to be saved and reprinted
• The expansion modules can be added at any time, allowing the printer to grow with your business needs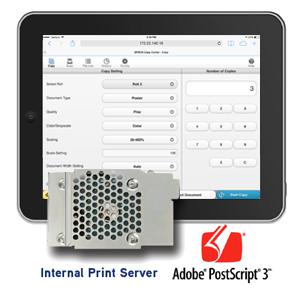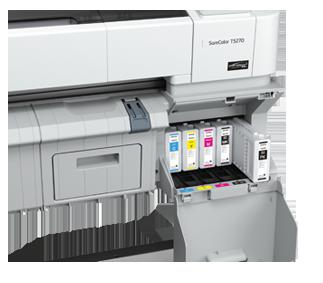 • Specially formulated pigmented inks for brilliant output with rich blacks and vibrant colors even on inexpensive plain paper
• Durable inks with extreme water, smudge, fade, and ozone resistance; excellent for archival and short-term outdoor use
• Multiple size ink cartridges - up to 700 ml capacity - for low printing costs
• The SureColor T-Series printers are designed to be used exclusively with these specially-formulated inks, and not with other brands of cartridges or inks
1 Print speeds for a single page are based on print engine speed only. For D-size prints the T3270 prints slightly slower than the T5270 and T7270. Total throughput time for any print depends on workstation configuration, file size, print resolution, ink coverage, networking, etc.
2 Scan speed of 6-inches per second based on scanning at 200 dpi in 24-bit RGB color. Copy speed based on time from start of copy process (360 dpi speed mode) until printing is completed including cutting of the paper.

Base Printing Technology
• PrecisionCore TFP Print Head
• 10-channel, drop-on-demand, inkjet print head
• 5-cartridge (Cyan, Magenta, Yellow, Photo Black, Matte Black)
• Epson UltraChrome XD ink
• Professional-level pigment-based ink technology

Printer Nozzle Configuration
Color and Monochrome 720 nozzles per Color
Enhanced Variable Droplet Technology as small as 3.5 picoliters
Resolution
2880 x 1440 dpi; 1440 x 1440 dpi; 1440 x 720 dpi;
720 x 720 dpi; 720 x 360 dpi
Dimensions
Dimensions and weights include printer and stand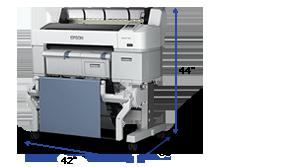 SureColor T3270 Single Roll - 148 lbs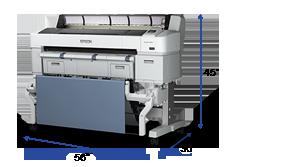 SureColor T5270 Single Roll - 186 lbs
SureColor T5270D Dual Roll - 261 lbs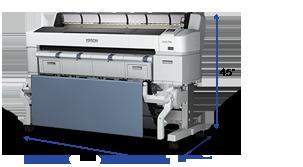 SureColor T7270 Single Roll - 203 lbs
SureColor T7270D Dual Roll - 294 lbs
Print Engine Speeds
Print Mode SC-T3270 SC-T5270 SC-T7270
Speed - 720 x 360 dpi 660 ft2/hr 740 ft2/hr 780 ft2/hr
Quality - 720 x 720 dpi 275 ft2/hr 310 ft2/hr 330 ft2/hr
Max Quality - 1440 x 720 dpi 105 ft2/hr 115 ft2/hr 120 ft2/hr
Typical Color CAD Plot Speeds
Print ModeA C-Size Plot
(17" x 22") D-Size Plot
(22" x 34")
Speed - 720 x 360 dpi 15 secs 25 secs
Quality - 1440 x 720 dpi 30 secs 52 secs
Max Quality - 1440 x 1440 dpi 1:38 2:50
Multifunction Scanning Module



Scan Resolution 200, 300, 360, 400, and 600 dpi
Scan SpeedB up to 6" per second (24-bit color)
Scan file format JPEG or PDF (Optional PostScript module not required)
Maximum Scan Area 36" x 96" sheet up to 1.3mm thick
Copy / Scan modes Text/Line Drawing, Tracing Paper, Recycled Paper, Blueprint, and Poster
Maximum Copies up to 99 copies
Reduction/Enlargement Auto, or 25-400% in 1% increments
Operating Systems Supported
Macintosh:
Mavericks 10.9, Mountain Lion 10.8, Lion 10.7 (Intel based)
Windows:
Windows 8, Windows 7, Windows Server 2012, Windows Server 2008 R2
Printer Interfaces & Language
• One Hi-Speed USB 2.0 port
• One Gigabit Ethernet port (10/100/1000 Base-T) with support for TCP/IP IPv4, IPv6, Apple庐 Bonjour庐, FTP, WSD, RAW IP, LPD, IPSec, SSL/TLS, and IEEE802.1X authentication protocols
• Epson Precision XD and HPGL/2 & HP-RTL
• Optional Adobe Postscript 3 module supports PS, EPS, PDF, JPEG, TIFF and CALS-G4 file formats
Acoustic Noise Level
Approximately 50 dB(A) according to ISO 7779
Limited Warranty and Service
Standard one-year on-site next business day service with toll-free phone support Monday thru Friday.

Optional Epson SureColor T-Series Extended service plans available for purchase.
Epson Intelligent Ink CartridgeC
Cartridge fill volume 110 ml, 350 ml, or 700 ml each x 5 colors total
Ink cartridge shelf life
(recommended) 2 years from printed production
date or 6 months after open
The printer is designed exclusively for use with Epson cartridges for greater reliability.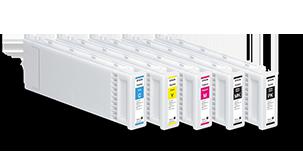 Media Handling
Media input
SureColor T3270 Single roll up to 24" wide
SureColor T5270 Single roll up to 36" wide
SureColor T5270D Two rolls up to 36" wide
SureColor T7270 Single roll up to 44" wide
SureColor T7270D Two rolls up to 44" wide
Cut-sheet size
SureColor T3270 Series Cut-sheet up to 24" wide (auto-loading)
SureColor T5270 / T5270D Cut-sheet up to 36" wide (auto-loading)
SureColor T7270 / T7270D Cut-sheet up to 44" wide (auto-loading)
Media core compatibility User-adjustable roll media adapters accept either 2" or 3" cored media
Maximum roll diameter Up to 5.9"
Media weight 12 lb bond up to 1.5 mm posterboard
Minimum sheet size 8.27" x 11"
Built-in media cutter Rotary cutting, automatic and manual
Printable Area
Maximum paper width
SureColor T3270 24-inch
SureColor T5270 / T5270D 36-inch
SureColor T7270 / T7270D 44-inch
Left and right margins 0 to 3 mm each (0.24" total)
Maximum printable length limited by application, OS, and driver/RIP used
Minimum paper width Roll: 10-inch
Sheet: 8.27-inch
Maximum printable length limited by software
application, OS, media length, and RIP
BorderFree® Printing
Left and right borderless "bleed" printing for the following roll media widths:
SureColor T3270 10", 11.8", 13", 16", 17", 20.3", 23", 24"
SureColor T5270 / T5270D 10", 11.8", 13", 16", 17", 20.3", 23", 24", 29", 33", 36"
SureColor T7270 / T7270D 10", 11.8", 13", 16", 17", 20.3", 23", 24", 29", 33", 36", 41", 44"
Top and bottom edges can be automatically cut to any length when printing on roll media.
Electrical Requirements
Printer
Voltage AC 100-240 V
Frequency 50-60 Hz
Current Less than 1A

Power consumption
Printer
Operating SC-T3270: Approx. 52W
SC-T5270: Approx. 60W
SC-T5270D: Approx. 61W
SC-T7270: Approx. 64W
SC-T727D: Approx. 65W
Sleep Less than 3W
Power Off Less than 0.5W
Fully ENERGY STAR Complaint
Environmental Characteristics
Temperature Operating
Storage 50° to 95°F (10° to 35°C)
-4° to 104°F (-20° to 40°C)
Relative Humidity
Operating 20 to 80% (no condensation)
Recommended storage 5 to 85% (no condensation)
Epson UltraChrome XD Ink
Ink Cartridge (110 ml)
Photo Black T692100
Cyan T692200
Magenta T692300
Yellow T692400
Matte Black T692500

Ink Cartridge (350 ml)
Photo Black T693100
Cyan T693200
Magenta T693300
Yellow T693400
Matte Black T693500

Ink Cartridge (700 ml)
Photo Black T694100
Cyan T694200
Magenta T694300
Yellow T694400
Matte Black T694500

Products and Accessory Part Numbers
SureColor T3270 Single Roll SCT3270SR
SureColor T5270 Single Roll SCT5270SR
SureColor T5270D Dual Roll SCT5270DR
SureColor T7270 Single Roll SCT7270SR
SureColor T7270D Dual Roll SCT7270DR
Multifunction Scanner Module
for SureColor T5270 / T5270D SCT36SCAN
Multifunction Scanner Module
for SureColor T7270 / T7270D SCT44SCAN
Adobe® PostScript® 3™ Hardare Module C12C891131
Internal 320GB Print Server C12C848031
Automatic Take-up Roll System for
SureColor T7270 Single Roll model SCT70TUR
Replacement 44" Take-up Reel Core C815121
Additional Roll Media Adapters C12C811401
Replacement Printer Cutter Blade S902006
Replacement Ink Maintenance Tank T619300
Additional One-Year Epson Preferred Plus Service EPPT753B1
Additional Two-Year Epson Preferred Plus Service EPPT753B2
What's in the Box
• SureColor T-Series Printer
• Printer Stand with Stacking Print Basket
• Spindle-free Roll Media Adaptors
• Set of five 110ml ink cartridges
• Ink Maintenance Tank (installed)
• AC Power Cable
• User Guide Kit (Documentation and Software)
• Note: Printing media is not included
Included Software
• Epson Professional Print Drivers for Windows and Mac
• Epson Job Accounting Software for Windows
• Epson Print Plug-in for Microsoft Office
• Epson CopyFactory (Download only)
• Epson Print Sever HDD Utility (Download only)
A Print speeds are engine speeds only. Times shown for ANSI D-size page are based on page size 34" W x 22" L (SC-T3270 model is slightly slower at 28 seconds). Total throughput time depends on workstation configuration, file size, print resolution, ink coverage, networking, etc.

B Scan speed of 6-inches per second based on scanning at 200 dpi in 24-bit RGB color.

C Cartridge yields vary considerably based on images printed, print settings, paper type, frequency of use and temperature. For print quality, a variable amount of ink remains in the cartridge after the "replace cartridge" indicator comes on. The printer ships with full cartridges and part of the ink from the first cartridges is used for priming the printer.